Funeral Flowers by Vendela Rose
"When words escape, flowers speak." – Bruce W. Currie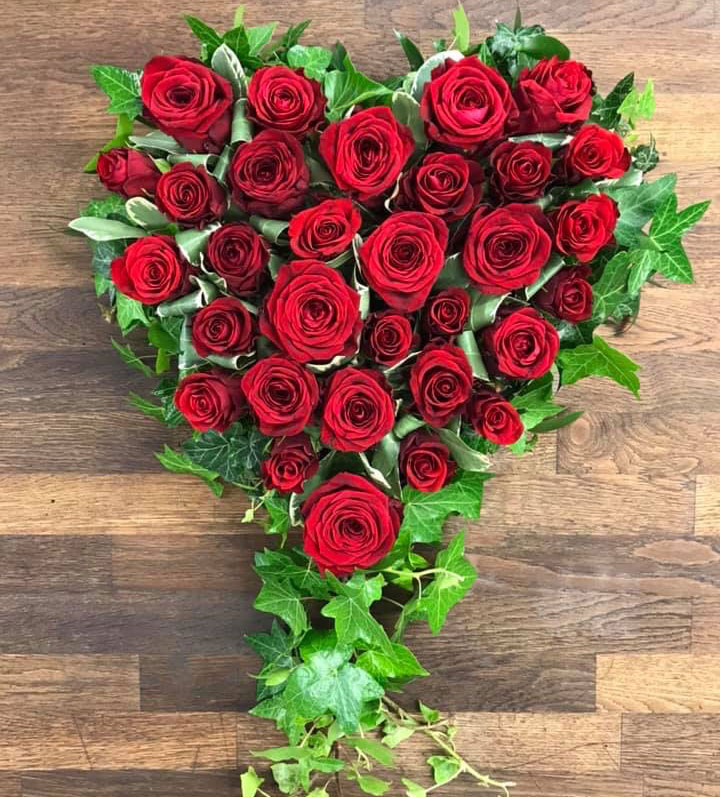 Funerals are an emotional time for family and friends who are grieving the loss of a loved one. When the right words are hard to find, the beauty of flowers can help express heartfelt emotions and show your support to the family in a comforting and compassionate way. At this difficult time, our caring team are on hand to offer reassuring guidance when choosing the appropriate funeral flowers.
Specialists in bespoke funeral tributes
Vendela Rose specialise in funeral flowers and bespoke tributes, and we fully understand the importance of the flowers you chose. Our caring and skilled florists will ensure we create a thoughtful flower tribute - whether you choose a casket spray, traditional wreath, elegant sheaf of favourite stems, letters in a favourite colour or a bespoke funeral tribute.
Choosing a bespoke funeral tribute can help share personal memories or represent a symbolic message, allowing you to say goodbye in your own special way. Vendela Rose can design bespoke funeral tributes to reflect hobbies, passions or interests of your loved one – such as football team colours, cars, beloved animals, favourite food or drink, affectionate nickname and many more.
Funeral flowers delivered in Tilehurst
We can delivery sympathy and funeral flowers direct to local churches, crematoriums, funeral directors or family home in Tilehurst and the surrounding areas. Our funeral and sympathy flowers can be created in a preferred colour scheme or include favourite flowers. With fresh flowers and seasonal foliage at our fingertips, we can create many funeral designs at short notice if required. More bespoke work such as tributes and letters require 4 days' notice.
Vendela Rose work with all local funeral directors in Tilehurst, Reading and Berkshire area. For funeral flowers in Tilehurst we work closely with Co-op Funerals on School Road. We regularly supply sprays and wreaths to family run funeral directors AB Walker and Cyril H Lovegrove Funeral Directors, both located in Tilehurst village.
For funeral flowers in Reading we deliver funeral tributes and wreaths to Miles and Daughters on Caversham Road, Co-op Funerals on Southampton Street and direct to Reading Crematorium on All Hallows Road.
Please have a browse of our funeral and sympathy flowers to buy online or browse our specialist tributes for our bespoke funeral work for inspiration. We understand that at such a difficult time it may be hard to come to the shop to discuss your requirements, so we are more than happy to arrange a home visit. Please give us a call or contact us by email to book a suitable time for you.
Caring for Funeral Flowers
Vendela Rose will ensure your funeral flowers are delivered on the day of the funeral, and handled with the greatest care. You may wish to keep the flowers after the day and here is some useful flower care advice.
Our funeral flowers and tributes should last 5-7 days, depending on weather.
If kept outside, extreme cold or heat can damage the delicate flowers so try to protect them from the harsh elements
Funeral flowers made with a foam base should be kept cool and lightly watered every few days.
Flowers in cellophane should be placed in water